What is The Hand Project?
The Hand Project is a truly unique CSR team building opportunity for organisations to assemble REAL functional prosthetic hands for people in developing countries.
The Hand Project enables YOU and YOUR TEAM to make a real difference in the world and, at the same time, build team morale, cohesion and purpose.
Read more about The Hand Project…
You can get involved in The Hand Project in 3 different ways;
---
---
"One of the best team building events we have experienced in our many years of professional experience – both for team management and team members."
Gaby Wenneker, SAP
"Our whole team has been deeply moved to really have made a difference with The Hand Project!"
Frau Geißler, Paul Geißler GmbH
What's in it for me / us?
POSITIVE
DIFFERENCE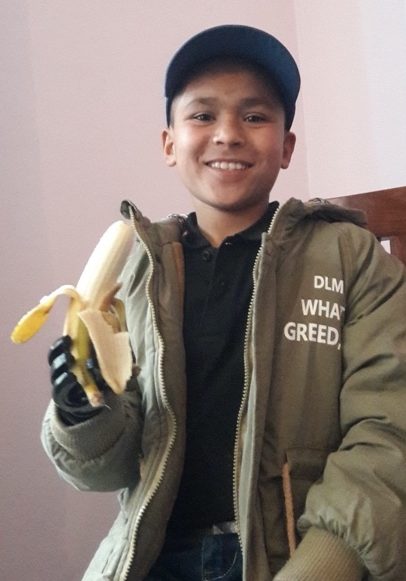 The knowledge that you have made a real positive difference in someone's life. Functional prosthetic hands enable recipients to better do the everyday things that we take for granted.
FEEL GOOD
FACTOR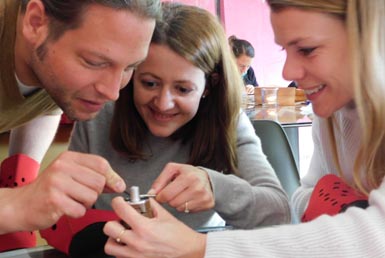 Your team will feel good about themselves, their colleagues, their company and what they have all accomplished together. This is not just a short-term feeling – this event will be remembered for months and years to come.
RAISE
AWARENESS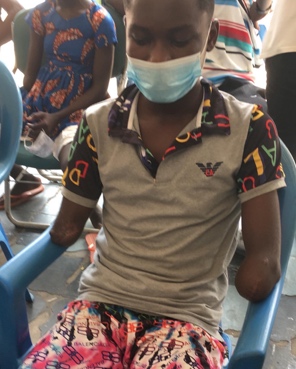 A raised awareness of what it is like to live with a disability and, thus, empathy with people less fortunate than us. When linked to 'purpose' the event may also raise awareness of each person's purpose within your company and the company's purpose overall.
What participants say…
---
What's in it for your organisation
TEAMWORK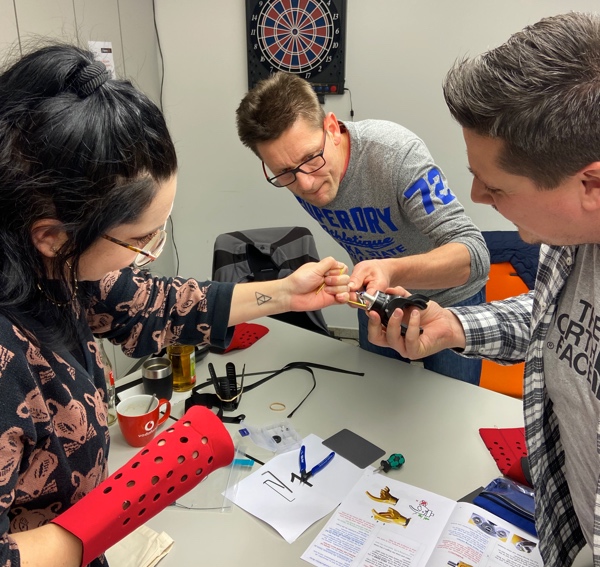 This team building event helps emphasise that, by really collaborating behind a common goal, a team can achieve better results. The event is NOT run as a competition between smaller teams, but as a collaborative exercise for the entire team.
CUSTOMER FOCUS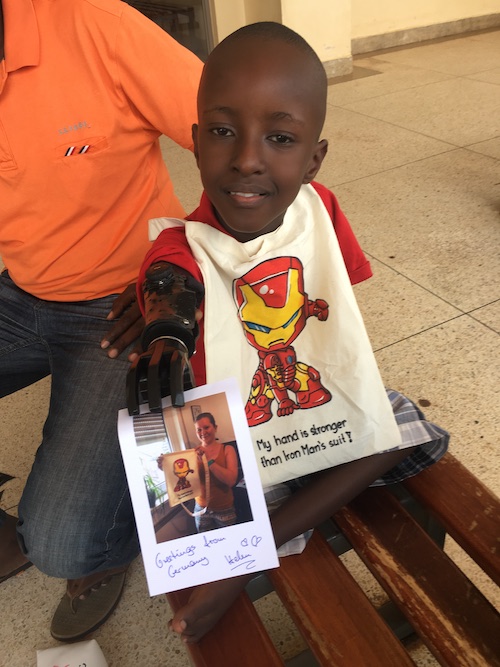 The recipients ('customers') of the hands your team will be assembling have very specific needs and quality concerns. Your team needs to keep these at the forefront at all times. Perhaps parallels could be made from the activity directly to your own business and your own customers' needs.
MOTIVATION & CSR
Improved team morale – by being fully involved in such an amazingly positive CSR cause, people feel good about themselves, their team and the company they work for.
We experience that 99.8% of participants finish the event feeling like they've made a real difference in the world, their perspective is widened and they feel grateful and thankful.
What clients say…

---
---
Option 1: The Hand Project – Facilitated Team Event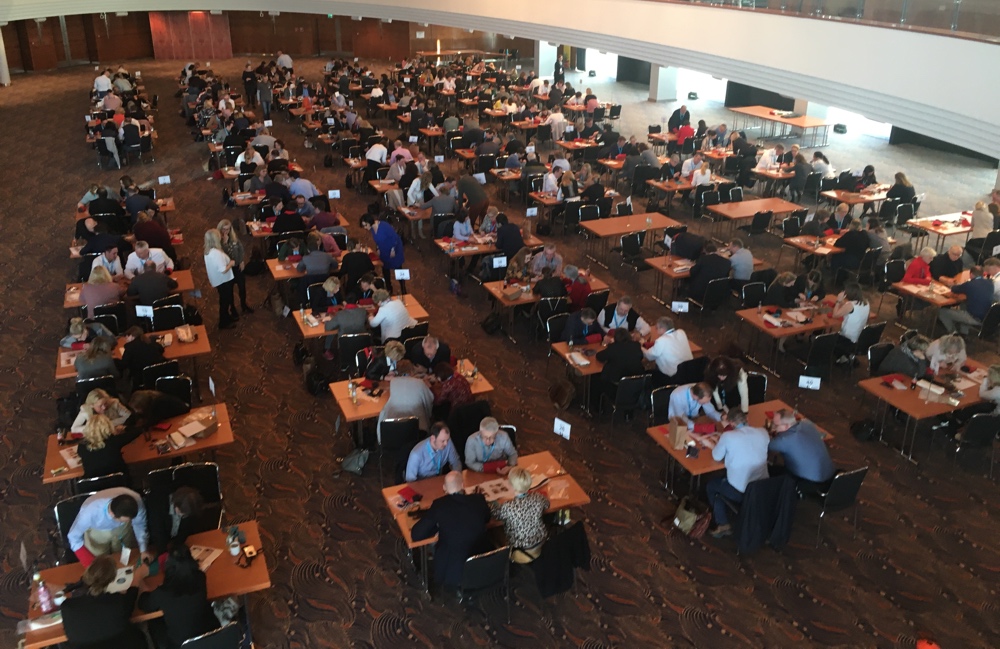 Designed for all sizes of teams – from 4 to 500 people. We travel to YOU – all over Germany, Europe and the world.
This event is absolutely 'real' and connects your team in a powerful way through a common purpose. Your team will be proud of their achievements and that their company chose to make a difference this way.
We run the event in such a way that makes the theme not so 'heavy' – the focus is on THANKFULNESS and DIGNITY. We even are able to introduce some humour into the event.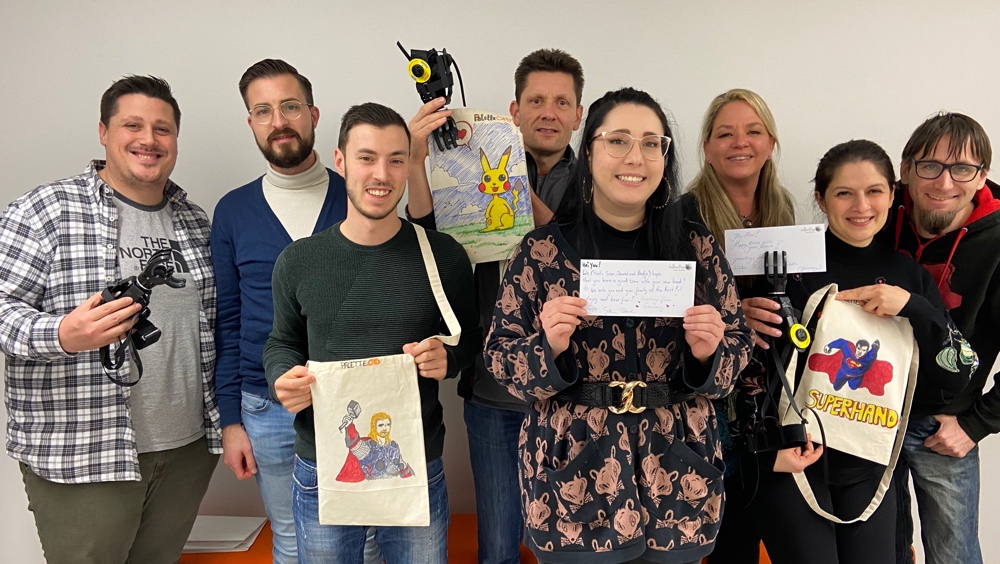 How does a Facilitated Event work?
The event normally happens indoors at tables: Duration: 2.5 – 3.0 hours.
An experienced and authentic facilitator will introduce the event through the use of a powerful PowerPoint / video presentation.
Your team then gets going on assembling the hands. The focus is quite intense. People forget the fact that they are doing a team building event.
As an added challenge, each person has one hand 'covered' during the build process to simulate a 'stump'. This helps to build empathy and connection with the recipient of 'their' Hand, and also promotes teamwork – it takes 2 to 3 people to screw a bolt in.
Each assembled Hand is then put into a 'hand bag' which has been uniquely decorated by each team. Each team will have a photo taken with this hand bag. This photo is then packed together with the hand so that the recipients can see a picture of the people that made their hand for them.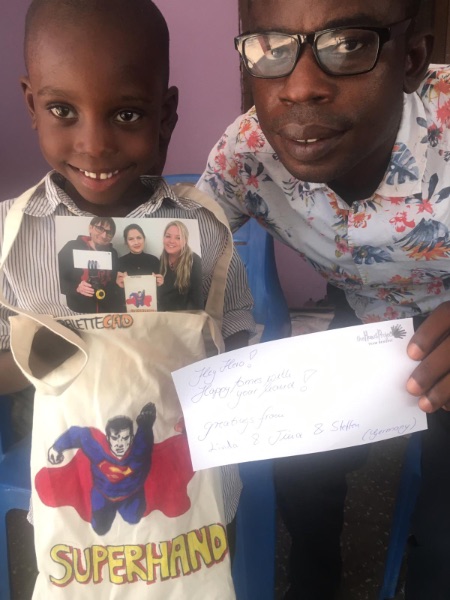 At the end of the event we share REAL stories and videos from actual recipients that really brings home how much of a difference the hands will make. It is a fantastic way to complete the activity as it ensures that all participants are left energised and with a renewed sense of purpose.
---
Option 2: The Hand Project – Online Moderated Event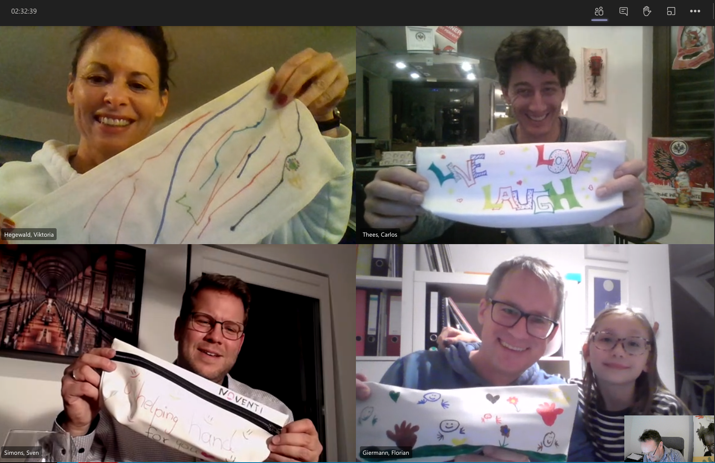 Just like a fully facilitated event, however your facilitator will join your team online.
We will send you the required number of kits and resources well before your event.
Our moderator will provide a live online briefing with powerful videos and images to help the team understand the importance of what they are about to do. They will then remain online while your team assembles the hands and decorate the 'hand bags'. This way, if anyone has problems or questions, they can easily ask for help.
Once the teams have finished, the moderator will conclude the event with a final presentation.
After the event, simply put everything back in the box and use the pre-paid address label to send it all back. Simple.
---
Option 3: The Hand Project – Self-Facilitated Event / Home Assembly Kit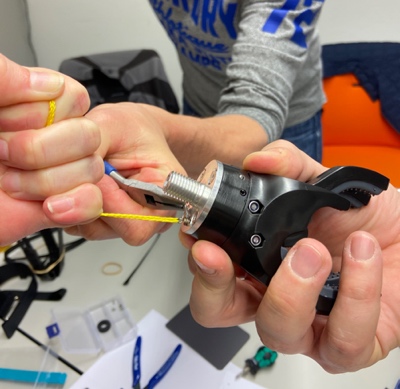 For teams of up to 20 people we offer a'Self-Facilitated Event' option. We send you everything you need to run the event yourself.
As well as the hand kit sets, tools and manuals, you'll receive a professional downloadable video presentation together with notes on how to run the event. At the end, you simply send the finished hands back to us.
The presentation provides background on The Hand Project to start your event. There is also a second part which you use at the conclusion of the event with stories and videos from recipients of hands.
(NB. With this option there is also an organisational fee added to the cost of the Hands).
What happens to the finished hands?
The assembled hands are shipped to partners in developing countries where the hands are fitted to their new owners – TOTALLY FREE OF CHARGE.
Where possible, there will be a photo taken of the recipient together with the 'hand bag' that your team decorated. Naturally, we will share these photos with you.
We do what we can to make this happen but, sometimes, it's not possible.



---
I want to do this. What do I do now?
Simply get in touch with us for an obligation free quote or to discuss your event. Either use our Contact Form, or call us on 0152 534 545 90.
---
More about The Hand Project
The Hand Project provides mechanical prosthetic hands to people in developing countries completely free of charge. In various forms, The Hand Project has been going for well over 10 years.
The hand that is provided, and that your teams will assemble, is 100% made in Germany. The carry bags that the hands are delivered in, and your teams will personalise, are made by disabled workshops in Germany.
The hands are made from over 50 pieces of high-grade plastic and metal and are CE Certified as a Class 1 Medical Device.
The hands are 100% mechanical and are operated by the user using their remaining hand or, in the case of bi-lateral amputees, the residual limb or any other suitable object.
With it, the recipient can write, eat, ride a motorbike, and many many things that we take for granted. It makes the quality of their lives much better and provides more dignity.
In the countries we distribute our hands (at the moment the focus is on Ghana, Uganda, Nepal and India) a hand amputee can simply not afford a prosthetic hand.
The hand prostheses provided through this project only come into existence via team events or Home Assembly Kits. The events are our 'assembly line' and also the project's funding model.
The price we charge for each hand covers the actual parts of the hand, quality checking , distribution and follow-up (which also can provide employment in the countries they are being distributed in). There's also a percentage for development of new prosthesis solutions and further product development.