01. What does it cost?
Hand Kit-Sets cost between €135,00 and €200,00 each depending on which event it is.
For Online Events each participant assembles a hand. The kit costs €135,00 per person including everything that is needed plus return postage (within Germany).
For Facilitated Events a hand is assembled by 3-4 people. The kit costs €200,00. Added to that is a Facilitator Fee starting from €700,00.
For Self-Facilitated Events each kit costs €200,00. Added to that is an Organisation Fee starting from €50,00.
These costs pays for the ENTIRE supply chain of the hand – from production right through to them being fitted to recipients.
All prices plus VAT / MwSt.
02. How Do I Get a Quote or Book an Event?
Simply contact The Hand Project team.
03. English or German?
We can run this event in either language.
04. Who Founded Team Benefit's "The Hand Project"?
Chris Gulley comes from New Zealand. He started a team building company there in 1995. The assembling of prosthetic hands is one of the events that was run there and one where Chris has seen the amazing difference that this event makes with the people who participate and, of course, the recipients of the hands. Chris moved to Germany in 2012 and chose to offer this event to forward-thinking teams here.
Chris' belief is that people in workplaces, by connecting behind higher purposes, perform better and can powerfully contribute to a better world.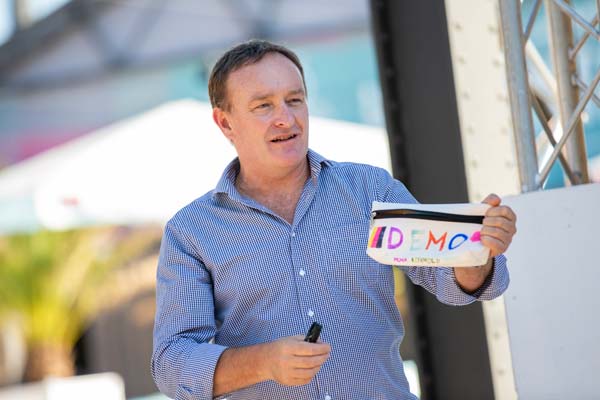 05. Is This A Charity? Can we get a Donation Receipt?
Team Benefit's "The Hand Project" is a unique partnership between for-profit and not-for-profit organisations. Helping Hands should be viewed first and foremost as a "team building event" but with a very charitable outcome. It is this unique partnership that has enabled so many businesses to experience the amazing results of a team event with such an outcome.
We are unable to produce an invoice that can be taxed as a charitable donation– we are not a registered charitable organisation.
We can gladly take donations to assist with the distribution of hands through 'Give Dignity gGmbH'.
06. Will We Get A Photo of the Person Who Gets Our Hand?
When a hand is built, a photo of the team that built the hand is printed and placed in the hand's decorated protective carry case.
At some future time, a recipient somewhere in the world will see this photo of the people who built 'their' hand.
When possible, a photo is taken of the recipient with the photo and/or decorated carry case. We do what we can to make this happen but, as anyone who has travelled in developing countries can attest to, things don't always go to plan…
Again, only when possible, we will share these photos with you.
07. Can I Purchase A Single Hand To Build?
Yes. You can purchase one or more hands to build. This makes for a great birthday or Christmas gift. Simply contact us.
08. What are the Venue and Event requirements?
1. Event Venue / Room:
We have run The Hand Project in all sorts of rooms, venues and environments. What is necessary is a comfortable, dry venue with the ability to be able to address the group as a whole. It is best to stay in the same place for the introductory presentation, the assembling of the hands plus the final presentation however, this is not 100% necessary.
The room does not need anything except the AV equipment listed below (i.e. no flipcharts, etc.).
2. Tables:
Tables where a team of 3 to 4 people can work with each other very closely are ideal. Bigger tables where team members must reach across to work together are not the best (but are workable). An optimal measurement is 100cm x 70cm.
3. Audio Visual Requirements:
We require a data projector and screen (or television) suitable for the group size. Our laptops are fitted with both HDMI and VGA outputs. For groups over 30 we also require a loudspeaker (for videos).
For groups under 30 people we can supply our own data projector if required (but no screen).
Generally speaking, even with groups of 100 or so, we require no microphone.
4. Refreshments:
If you want to provide refreshments, have these available and the participants can help themselves during the event. We also ask NOT to take any breaks during the event. People can always leave to 'refresh' themselves if needed.
5. Event Timing:
The event, usually, takes between 2.5 to 3 hours in total.
6. Set-up Time
To set-up, we need approximately 15 minutes for smaller groups (up to 30), and 30 minutes for larger groups.
---
---